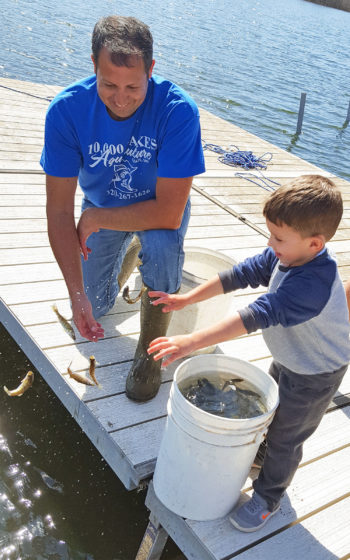 We offer high quality walleye, yellow perch, black crappies, small mouth bass, largemouth bass, hybrid bluegills and fathead minnows. We also offer some game fish that are pellet trained. Our fish are certified disease free including VHS.
Pond Stocking Recommendations:
For your average one-acre pond we recommend that you stock no more than 100 predatory fish (Walleye, Small mouth Bass, and Largemouth Bass). You should not stock any more than 500 prey fish (Hybrid Bluegill, Yellow Perch, and Black Crappies).
We like to see people stock fish that go well together in a pond. If you are a pan fish lover then we recommend stocking hybrid bluegills with largemouth bass. If you like walleyes, we recommend stocking them them with yellow perch. If you want Black Crappies we recommend stocking them with Largemouth or Small mouth Bass.
We do not recommend that you put walleyes in a pond that is less than 2 acres in size and less than 10 feet deep. All ponds and watersheds are different. Soil types, fertility, age, and water sources all play important roles in the quality of your pond. Use natural techniques to control vegetation as much as possible. Aeration can positively influence the efficiency of your pond.